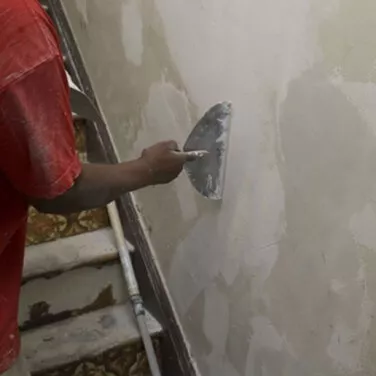 Home Care/ Decor
What is Efflorescence and how to treat it?
Efflorescence is the whitish deposits you see on walls and masonry.
Efflorescence is the whitish deposits you see on walls and masonry. The local names for it are Kallar and Shora. Efflorescence is not a good sign as it means that the quality of construction material may not have been the best.
Due to the use of salt water during construction and through rains, the salts (like sulfates or magnesium, sodium, calcium and calcium carbonate) present in the wall get dissolved. On evaporation, the previously absorbed water along with salts appears on walls as crystallized patches or a layer of white powder. Another cause of efflorescence is the sulfation of pyrites in clay which can cause mortar and wall plaster to weaken.
How to treat efflorescence
Cleaning the wall with a force of water pressure has been a common recourse to treat efflorescence. However, since the salts are water soluble, there is a risk that they will get back into the wall, and then resurface as crystals after a while. Therefore, the first line of treatment should be to brush the walls with a stiff brush and rid most of the white of it. This can be followed up with water pressure cleaning to dislodge residual salt from the walls.
If efflorescence is caused by calcium carbonate or calcium sulfate, it tends to be more difficult to brush it off. It adheres rather strongly and is difficult to remove by brushing. An acid-based treatment is recommended in this case. This should be then followed up by brushing. However, it always makes sense to allow the efflorescence to peak before treating it as otherwise, you will face the problem over and over again.
In general, an ideal way to treat efflorescence is to scrape the area thoroughly or scrub it with a brush. Once clean, an epoxy based coating such as Dr. Fixit Dampguard will ensure that the inside of the wall, as well as the outside, is protected from dampness, and a repeat occurrence of efflorescence is kept at bay.
To conclude, efflorescence has a proven connection to the presence of moisture in walls. Complete waterproofing will not only prevent efflorescence, but also other problems like dampness and mold. New constructions should always use clean, potable water. When you build your own Happy Home, ensure that waterproofing and proper construction techniques are being followed.