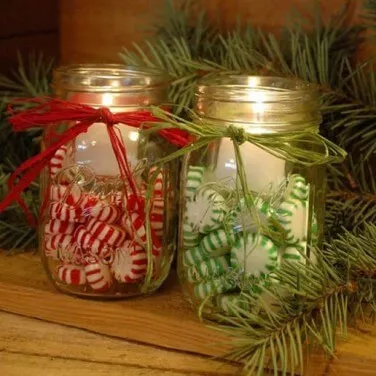 Home Care/ Decor
A touch of modern simplicity for your Christmas décor - The Happy Homes
'tis the season to be jolly, merry and celebrate the magic of goodness. And, what better way to welcome this joyous holiday of Christmas by extending your home into a hub of miracle and joy.
This year, allow us to play your Christmas Décor Santa. We have top 5 simplistic, yet modern Christmas décor ideas that are minimalist, but festive.
1. Say it with stockings
Source:https://in.pinterest.com/pin/9640586676421054/
Well, it's Christmas and it has to be stockings. This year, give the traditional red stocking a makeover with monogrammed stockings. You can even crochet stockings and give it a traditional, yet modern appeal to your home décor. Place these stockings alongside a white mantel piece or shelf. If white is missing at home, simply place it against any plain backdrop.
2. Sweet nothings
Make your home a sugar haven of red and white sweets, candy bars, toffees and candy canes.
You can make a candy cane wreath or simply hang it by the window or ceiling for that extra Christmas cheer.
Deck your dining and side tables with a sweet set-up of treats in simple mason jars.
Make it an ultimate centerpiece by filling up these jars with playful arrangement of peppermints, marshmallows, ribbon candies, chocolates and candy canes.
Source:https://in.pinterest.com/pin/9640586676421054/
3. Ornaments of joy
This year, don't restrict Christmas ornaments just for the traditional tree. Do up your ceilings, walls and windows with metallic sparkly snowflakes and baubles. Play up in colours of red, green purple and silver for the festive shine. Alternatively, you can also give the traditional ornaments a twist with some Origami or hand-cut paper hangings.
4. Play up the frosting
A little bit of frost, a little bit of fun is what you need to perfect faux White Christmas. Place a simple, yet modern winter–white table for your gathering of friends and family. Use an ivory shade runner on the table for the warmth of Christmas. For the final touch-up use cover-up pinecones with faux frosting made of glitter. If you have no access to pinecones, then make them up too! All you need is scraps of leather and a thick string to pull it together.
Source:https://in.pinterest.com/pin/85286986673672846/
5. Of strings, stars and garlands
Soak in the spirit of Christmas in every room. Throw in colourful strings of paper garland or fairy lights along your bedside or walls for that festive cheer. This year bring the joy with stars – Use them at striking places for the never-to-be-missed joy. You can also use soft cotton balls for to add colours and cheer. This year, give the traditional flower wreath a miss, and make one with stars cut-outs, string lights or anything that catches your creativity.
Lastly, as you choose on the perfect decor for Christmas make sure it blends in naturally with all your present day home settings. Still, if there is any confusion just play up the traditional colours of red, green and white. Here's wishing you all a Merry Christmas.
Source:https://in.pinterest.com/pin/361625045064919314/