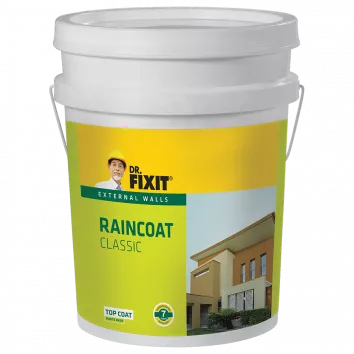 Dr. Fixit Raincoat Classic
External Wall Waterproofing
Features & Benefits:
Resists wind – Driven rain, helps prevent water penetration into the substrate
Anti-carbonation – Effective carbon dioxide diffusion barrier protects embedded steel from corrosion
Waterproofing – Higher film thickness provides crack bridging ability, waterproofing properties
Flexibility – Flexible and covers hairline cracks (up to 2 mm) effectively, thus prevents ingress of water
Toughness – Tough film withstands wind driven rain
Elastomeric – High elasticity easily withstands stress caused by thermal expansion & contraction
Downloadable Resources
Get more information about this product with these downloadable files.
FAQs
What are the available sizes and package prices for Dr. Fixit Raincoat Classic?

How to apply Dr. Fixit Raincoat Classic 641?

What are the recommended surface areas for Dr. Fixit 641?

What is the coverage area for Dr. Fixit Raincoat Classic?

What are the benefits of Raincoat Classic Dr. Fixit?
Get Professional Waterproofing Solutions Today
Fill The Form below to take free site evaluation by Dr. fixit service expert.